I had some expectations about this movie, since i saw it on Leno a couple weeks ago and the clip left me mouth-watering. It didn't seem to have that much of a story at first, but the performances of the actors were pretty outstanding in the clip – as well as in the trailer – so i was left a bit curious about the whole deal.

It could turn out to be an utter and complete flop...

Then, I thought... John Travolta isn't an amateur and neither is Scarlett Johansson. Both of them have already impressed us in the past; Scarlett showed her potential in Lost in Translation and later confirmed it on A Good Company. John has been a personal favorite ever since the comic appearance in Look Who's Talking and established himself later as a top-notch actor with the acclaimed Tarantino's Pulp Fiction. He has failed to disappoint since then.
There seemed to be a good set of reasons to watch this.

The movie is based on a novel, Off Magazine Street [amazon .co.uk .com], written by Ronald Capps. Having not read the book I can't establish a parallel between the original novel and the adapted movie. I can, however, talk about the outstanding screenplay and how it unfolded throughout the movie.

From both the trailer and the synopsis, one gets the idea that it's a simple story about a girl who returns to New Orleans after her mother has passed away. She then proceeds to find a couple of strangers – to her, at least – living in her house. Not much more can be guessed about the story, but the truth is that it doesn't lack in both depth and surprise.

At certain times, the movie seems to linger on, which could leave a sensation of boredom in the viewer – some might even say the movie is too long – but I enjoyed it nonetheless.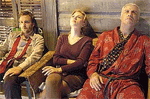 At its core, the movie is about relationships in an, apparently, hostile environment. Scarlett's character, Pursy Will, which is only 18, is quite lost in the world without any guidance whatsoever. She ends up finding it in the least expected place. Bobby Long, played by John Travolta, who is an english teacher haunted by his past and one who constantly uses lines from characters in books, goes through a changing journey ever since Pursy arrives in his doorstep. Sharing the house with Lawson Pines (Gabriel Macht), who is in charge of writing Bobby Long's book, they both try to tire Pursy away with their bad habits – namely drinking – since all they want is to be left alone with the house and not having to share it with their late friend's daughter. However, she's not willing to give up that easily and adopts her own strategy to get rid of them.

This is an evident character based movie. It's not filled with special effects, doesn't have outstanding action sequences, but still it can make the same impact solely based on three glorious theatrical performances. John, Scarlett and Gabriel – who, by the way, was in no way overshadowed by the great names starring beside him – deliver great performances, giving enormous depth to their characters.



John Travolta, once again, shows that he cannot be type-casted. Has has never been caught up in one kind of character because he has always managed to play different parts in each movie he makes.

Good guy, bad guy, alcoholic, family guy, you name it. This time, he assumed the life of a bitter english teacher, and he did it flawlessly. If you ask me, he deserves – at least – an Oscar nomination. And so does Scarlett Johansson, who puts a lot into this character, which was not easy to play. With some wound up scenes as well as calm, she was given a good challenge, and lived up to the expectations. Bravo, both of you.

For those who like rich storied movies with a slow rythm – don't want to get you bored, the movie is a bit slow at times – you won't be disappointed with this movie. Specially if you appreciate a good performance by the actors, like myself. If not, give it a chance, it might surprise you.