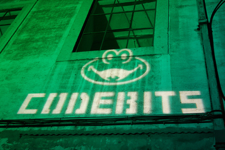 Photo by Pedro Cavaco
SAPO Codebits 2008 has come and gone... and let me tell you, what a 3 day experience it was.

Let's start from the beginning.
My talk
I was up very early in the schedule, so I gave the talk, Microformats - putting together the pieces of the puzzle (roughly translated title) on the second slot of the first day. It was nice being able to stop worrying about it very early in the event.

From all the feedback I've gathered, right then and there and also later on the web, I think it went very well. It's nice seeing people saying:
The truth is that I've already heard a lot about microformats, but I've never had the chance to search and read something more detailed about it. (...) So, now that I caught some interest in Microformats, I'll soon be applying them on my web projects.
—Rogério Vicente
If you want, take a peek at the slides at my last post or view them on slideshare (they're in Portuguese, though).

I handed out a few stickers, but if you want some for you, either ask me or create your own at Moo
(created by Brian Suda).
Other Presentations
The fact that some talks I was interested in were at the same time, presented the usual difficulties.

Which talk should I go to?

The ones I liked best were:
There were a few others I missed but I'll try to watch them as SAPO start releasing the videos (yes, there will be videos).
Coding competition
Right. Since this was heavily inspired in Yahoo! Hackday, the highlight is the coding competition.

This year I teamed up again with my pal Pedro Eugénio and we implemented a basic prototype of an idea we had during the event. Little did we know what was in store for us!

Here's the pitch.
Who's In?
We thought that one feature that was lacking on all major analytics packages was being able to see what your users were actually doing on your websites. So we wrote a little demo that captured the mouse movements and mouse clicks of each user and played it in the admin area (using comet, which was our first attempt at using it), all merged into one replica of the website.

This would allow site owners to perform usability tests on users without affecting their behaviour by telling them they're being tested. Also, client support can use this to provide some remote assistance on-the-fly with no setup required. There's a whole bunch of use-cases for this, really. And some of them might actually pull some money behind it.

If you're interested, watch the screencast we used during the 90 seconds and see the picture of a visual enhancement we did after recording the video below.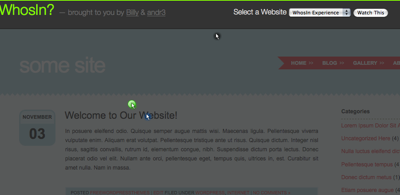 We thought the idea was great and as we shared it with everyone who was kind enough to hear us, we started getting very positive feedback... namely from Bruno Pedro, Pedro Melo, Nuno Mariz, etc. That's always a great motivator. Also, Bernardo Mota helped us a lot with his experience with client support. Thank you all for the help.

Well... The best was yet to come, as this little demo granted us the ___th prize! (we were so taken by surprise that we didn't actually remembered to ask which prize we got! It was either 6th or 5th, I think.) I couldn't believe it! We won a prize!! And what a prize it was! We each got a brand new Macbook, a motorola Q 9h and 2x books. I grabbed one that I've been wanting ever since I saw Ann McMeekin presenting at <HEAD>: Design Accessible Web Sites. Pedro got a huge bible on Ajax. Awesome (the Eddie Izzard kind of awesome) prizes, I tell you. Great partners Codebits has. ;)

So thank you all who helped us, the jury for supporting us and now, we're off to find out the best way to get this online ASAP. I'll keep you posted.

One wish for 2009, though... I hope to see a lot less (or... none?) projects presented that were not developed within the 24 hours. There were still a good deal of projects that were clearly developed outside codebits and just used them at the competition... I know it's not that polite to critique if you're one of the winners, but the whole spirit of the event is to see what you can come up with in 24 hours...

So kudos to everyone who did their stuff at the event and as far as my favourite projects go, well, here's a list.
Crowdbeats
CloudStream
Myusic
Blog game
Organizers and participants
A last word to the organizers, who happen to be the company where I work at. Well done boys. It makes us proud to be part of the family with such a stunning event.

Also, I met a good deal of people throughout the 3 days and let me tell you, it feels good to see so many people getting together around the common interest, technology, and still be able to have a good time, laugh, sing, play, etc.

It's a proof that when it comes to geeks, there's more than meets the eye. ;)