(another post that should be in Portuguese. Sorry about that)
Here are the slides I made for the presentation I was asked to give at ISEL Tech 2010 last tuesday.

If you're wondering why there's very little reference to browser support, it's because the support now will make little difference on the big scheme of things. Things are evolving so rapidly, with more and more features being supported in the modern browsers at each release (you know, Firefox, Safari and Opera).

Any questions or remarks, leave 'em in the comments, please. They're very welcomed.
Slides for: HTML5 - A nova era da web
(in portuguese)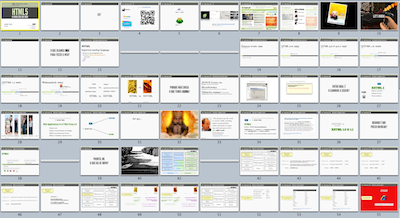 Check out the slides on slideshare. or if you prefer Download the pdf (28MB).