And here we are.

2009 is slowly crawling to its ultimate demise.

SAPO Codebits has, once again, rocked the geek calendar.

Christmas and the new year are just around the corner...

So what better time than now to launch a new project? ;)

Yes, that's right. During 2009, I was invited to join susy to help her with the challenge of making the dream of iGIVE come to life.

She presented her idea back in SAPO Codebits 2008 even though an idea was all she had at the time. Billy jumped aboard initially but then had a child, so priorities changed a bit for him. She asked me if I was available and the idea quickly won me over.

Thus, over the course of 2009 iGIVE become more than just an idea. With the support of SAPO, it became a tangible project!
So, what is iGIVE?
Well, if you have something cluttering your home, it's probably because you don't need it. But someone might.

That's the goal of iGIVE. It enables people to say what they have to give and what they are looking for. This way, you can find someone who will find a better use for your ___________ (fill in blank) other than collecting dust!

The website is entirely in Portuguese and geographically focused in Portugal. Here, have a looksie!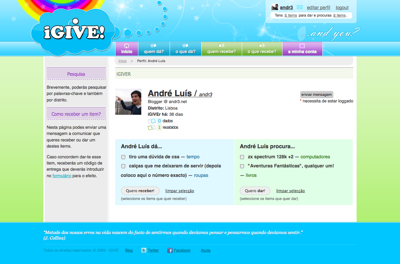 check out my profile or see a bigger screenshot

We have great plans for the website and the community. We really want to make a difference and help people help other people. :)

If you have any feedback, do send it our way. You can use the GetSatisfaction page we setup or e-mail me directly.
The boring technical bits
On the backend, it uses the typical Linux, Apache, PHP, MySQL combination. Memcached for cache and a homegrown CMS.

On the frontend, the HTML5 doctype (nothing fancy though), CSS (including CSS3 smartass-eries) and not an ounce of javascript. For now. ;)

The design was entirely Susana's work. Kudos to her! I merely helped with the rest.
Am particularly proud of the progressively-enhanced <button>s.
A lot more to come
Even though we're not completely dedicated to the website (we still have day jobs), we are wholeheartedly committed to the project and will are already enhancing the website and contacting people that can help us prove that the web and computers can actually bring us closer to each other.

Hope to have your help along the way.